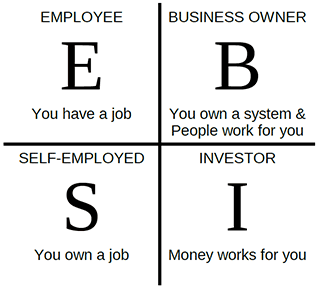 Case Study: Brian Katzung's Journey into the Business Quadrant and Internet Marketing with MOBE [Video Transcript]
[The video corresponding to this transcript may be seen
here
.]
Hello, and welcome. My name is Brian Katzung. I'm the founder of the busres.com Business Resources web site and computer consulting company Kappa Computer Solutions, LLC.
I believe life is a journey. Finding one's path as an entrepreneur can be especially challenging. It has taken me about 40 years to feel like I'm really heading in the right direction.
In this video, I'm sharing some of my on-going journey in the hopes that maybe some part of it may help you on yours.
My goal for many, many years has been to move to the "B quadrant" or "business quadrant" as described by Robert Kiyosaki in his book Rich Dad's Cashflow Quadrant.
If you're not familiar with Kiyosaki's books, I highly recommend reading at least Rich Dad, Poor Dad and Rich Dad's Cashflow Quadrant. You can find Amazon.com links to them on the busres.com web site.
In short, the cashflow quadrant represents four groups or types of people: employees and small (or "solo") business people in the left two quadrants, and business owners and investors in the right two quadrants.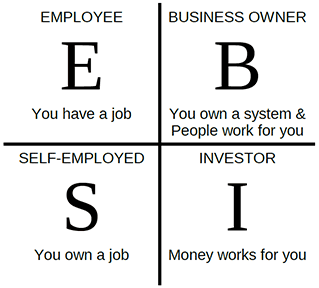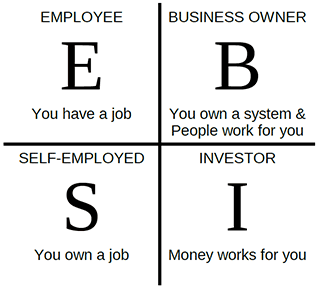 The two quadrants on the left side represent people who work for money. They trade their own time to get it. If they stop working for more than brief periods of time, the money stops coming in. The two quadrants on the right side represent people who leverage systems and other people's time to generate their money. Although they still need to invest time to manage the system, the system generates income without their full-time attention.
As a computer consultant, I have been in the E and S quadrants on the left side for most of my life. After graduating from college, I worked in the E quadrant as an employee for other consulting companies. I did technical work while somebody else took care of the marketing.
During the "dot-com era", finding work was relatively easy. I started my consulting business, Kappa Computer Solutions, LLC, to move toward the S quadrant. For a while I was so busy that I just spent all my time working, like an E quadrant employee, without taking the time to grow my business or even plan my next steps.
A lot of things changed over the next several years. The dot-com bubble burst. The Internet era arrived and increased the popularity of global out-sourcing. I was now competing with providers globally for my income, while most of my expenses even to this day are to vendors such as utility and insurance companies who are only competing locally. My wife and I also started a family.
All of these served to amplify the need to find more and better ways to generate income.
In addition to computer work, I also explored several other possible income streams, including brokering the discounted purchase of business receivables (also known as factoring), investing in stock options, and real estate investing. Without getting into the details, suffice it to say these explorations resulted in a number of life lessons but not much income, and they came at a significant cost of time and money.
Within the computer programming arena, I realized that the best way to be competitive and profitable was to create products and services that could be licensed to many people. However, developing and testing new products can be a very complex and time-consuming process. If not done correctly, it's easy to invest a lot of time and money in creating products and services for which few or no people are willing to pay.
I also realized that I needed to get my head out of the technology some of the time to learn more about marketing and product development and selection. My search for answers ultimately led me to a company called "MOBE", which is short for "My Online Business Education" and formerly for "My Online Business Empire".
MOBE specializes in business training and educational events. Most of their current training is focused on Internet marketing, but they also include other training as well, such as skills for moving into the B and I (or business and investing) cashflow quadrants, and they are aggressively working on expanding their offerings.
MOBE has helped me in many ways:
First, MOBE has really expanded my appreciation for the importance of mindset and attitude. This, in turn, has been instrumental in helping me break out of my technical "shell" and broaden my thinking about my business.
Second, MOBE has brought me back to the basics of goal setting and business planning, including providing some very concrete examples for connecting the two.
Third, MOBE has taught me a lot about business economics, business models, product selection, how to establish a virtual team and scale my business, and methods of marketing well beyond the basic Google pay-per-click ads I had tried before.
Fourth, MOBE provides both coaching and an active, friendly, and supportive community of fellow entrepreneurs to provide guidance and help work through any issues I encounter.
And last, but certainly not least, MOBE has licensing products that allow me to generate an additional income stream as an affiliate marketer relicensing MOBE products to others on a commission basis. This is absolutely huge–in fact it's hard to adequately underscore how valuable this is:
First, I get to help others learn critical skills and get access to the kinds of training that every successful online business should have.
Second, I'm practicing and reinforcing the very marketing skills I've learned.
Third, MOBE handles all of the effort involved in developing, testing, delivering, and supporting proven products (although I have to reiterate that the MOBE user community is very supportive too).
Fourth, not only does MOBE handle the billing, if my customers buy additional products, I get a commission even if MOBE's internal sales team sold them the products!!!
As a result of partnering with MOBE, I am very happy to announce that I have finally found my way into the "B" cashflow quadrant.
Thank you for watching my video. Please subscribe, like, and comment. For additional information, see the links below.
Finally, as it says in the Holstee Manifesto: This is your life. Do what you love.